THE EVOLUTION OF ARMOUR IN HEAVEN

After the breakdown of social and industrial stability, manufacture of anything not seen as vital for human survival (food/shelter) shut down. The general public - civilians - stayed indoors, often sealed in with makeshift barricades of old furniture and dismantled cars. Those not willing to lay passive and reclusive began rebuilding the concept of 'apparel'.

Distances between refuge was wide and unsafe so non civilians built crews of motorbike operatives and rear seat riders for carrying equipment & weaponry.

Members of the bike gangs needed clothing for long distance, high speed travel, excursions, recon missions and haulage.

They began to build raw future wears, first finding/stealing work gear, army surplus items and various uniform and combined them with industrial materials and fantastical yet functional fabrics to create world ready hybrids.




The original garments (all 1/1) were labelled fossils and archived for supervised viewings in converted, derelict palaces, churches and mosques. Viewers would need identification and invitation from an initiated biker or figure of the TSE movement for entry. Entry was regulated by clone like, hard light, hologramatic figures called Bonemen who lay guard on the entrances of the viewing palaces.
Through garment sales, film screenings and viewing ticket sales the riders moved forward with the production of AIH in the form of The Spectacular Uniform. A mystical collection of adverse conditions gear.
The uniform (TSU) was a refined range of items that best assisted the non civilian travellers passage through ranging terrain, social interaction, self defence and revolution.
Armour in Heaven | Unnatural Systems for
Ace Hotel
London - 8.6.18 Presented by
DAZED
UNNATURAL SYSTEMS 2110 - PHASE 3

Four Uniforms of The Spectacular Empire.

The clothing exists within, and responds to a world of greed, oppression and injustice using both up-cycled & luxury materials, tech produced detailing & hardware, an industrial aesthetic and future finishing.
Film:
Joe Durr
Sound:
Daniel Ruane
Faces:
Ai
Inigo
Will
US.2110 reflects our unavoidable sense of vulnerability with translucent fabrics and skin like, fine latex, Offers protection, with statement printed panels, insulation fabric, adverse condition resistant material, masks and camo, while projecting our awareness of power through bold silhouettes, utilitarian design, bright, single tone colouring, heavy metals and gold.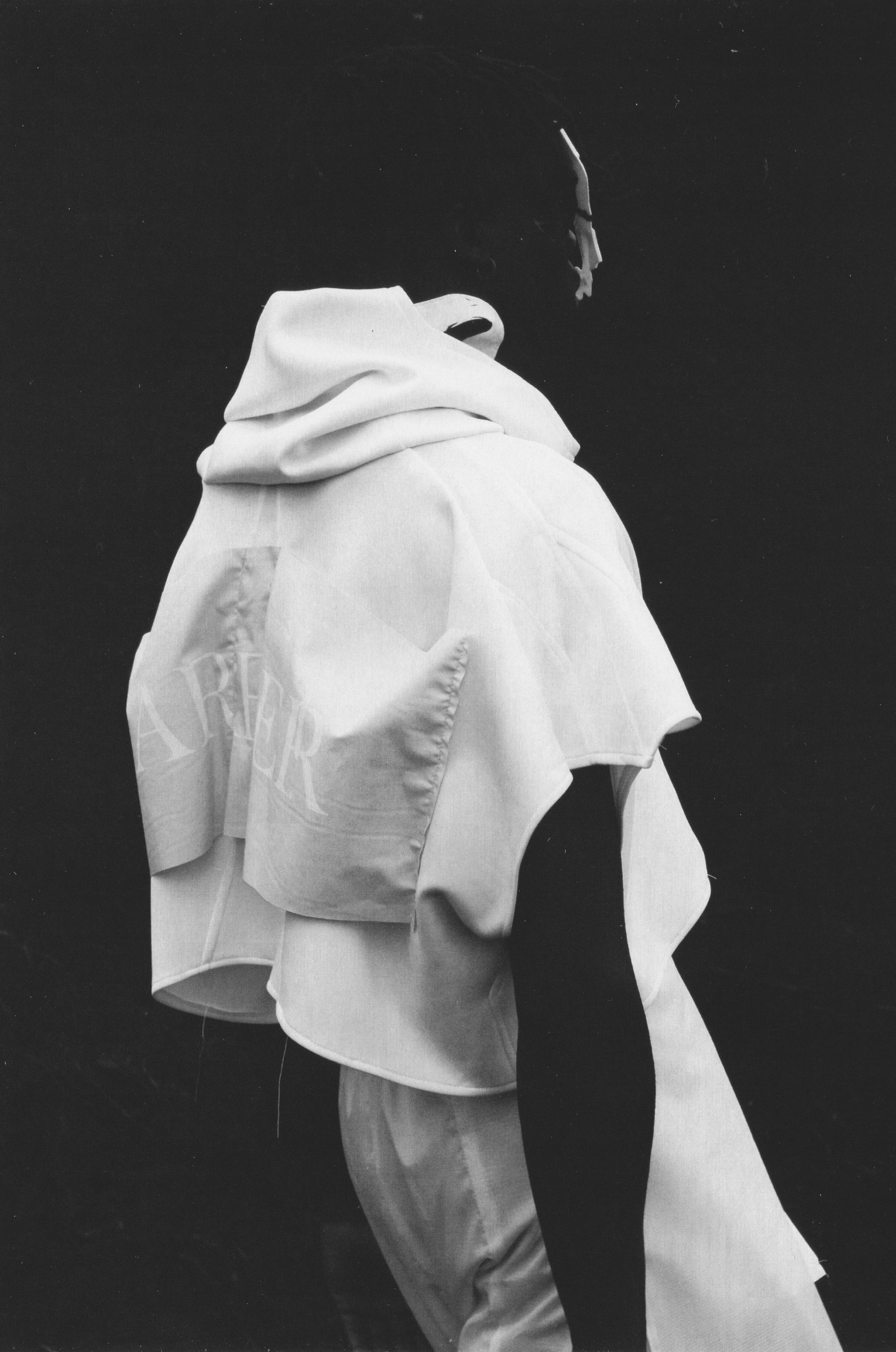 TMA 01 - AIH Unnatural Systems 2110
HOI POLLOI / ACE HOTEL
Presented by
DAZED

8.6.18

PAY HOMAGE TO THE PROTECTOR OF BEINGS. THE UNIVERSAL SOVEREIGN,
BEHOLD THE DESTROYER OF WORKS, BOOKS.
HE WHO COMMANDS YOU FROM HEAVEN WITH THE LOGIC OF LIES - BLOW OUT THE SUN WITH LUMINOSITY AND LIVE WELL AMONGST THE DEAD.
HERE WE ARE HIS MANSIONSNCASTLES OF THE ANIMATE AND INANIMAT WHERE MORTAL MEN SEARCHED FOR THE UNIVERSE IN PARTICLES.
BUT STILL THEY DIED. THESE STUDENTS OF THE SPACES IN-BETWEEN. THEIR BODIES DECAYED BY THE LABOUR. THEY DID NOT SEE THE SNAKE AND THE EAGLE SHALL BOTH BE VICTORIOUS BY THE RELINQUISHING OF OF ALL VIEWS, ALL CREATURES ARE BORN SUBDUED AND PURE.
WHO KNOWS THE WORLD
FILM:
GAIKA
HE WHO BEGUILES AND PARALYSES SLAYS, DISSUADES AND MORE THE TAME MAGNETISES AND SO FORTH HE FLYS THROUGH THE SKY.

HE ENTERS THE CITADEL OF ANOTHER AND SO ON.
HE CAUSES HOSTILITY, RENDERED MUTE AND MOVES UNDER EARTH. HE DOES NOT AGE AND IS DEATHLESS

I SEE

HE HAS SIX ARMS AND IN EACH HAND A SEVERED HEAD, THAT OF MY FATHER AND THAT OF MY SON, THAT OF MY MOTHER AND THAT OF MY DAUGHTER AND MY BROTHERS STARE INTO THE VOID

IN DEATH WE ARE UNDIVIDED, IMMATURE TRUE AND UNTRUE.